Globally trusted content management built by professionals
Unlock Excellence with
iManage Work 10
The leading document and email management system for today's modern professional.

Access your work from anywhere, on any device, in a single user experience. Designed by professionals for professionals, iManage Work 10 features dozens of new enhancements to make you more productive. It makes it easier than ever to collaborate with your team and stakeholders in a secure and governed manner.
Unlock Excellence with iManage Work 10
Explore the features that make iManage Work a leading solution.
Imagine the impact of a 73% reduction in document-related costs
Want to understand how businesses are improving processes and saving money?

Explore the benefits of iManage and learn about implementing a world-class document management system
Read our article "Taking Control of Content " for more...
Perform one search across all your documents and emails
With iManage personalized search, you search across the entire organization including all emails, documents, and images, and receive prioritized results based on your search patterns. Even scanned documents, which can be transformed into searchable text with iManage OCR, are included in search results.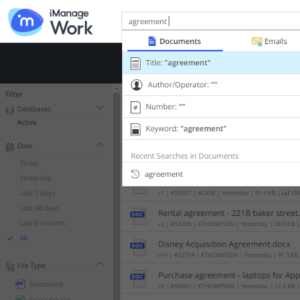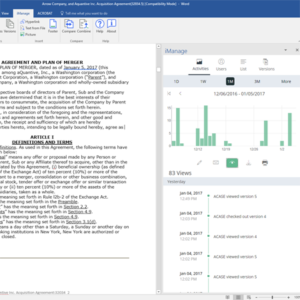 Work in Microsoft Office, Office 365 and Outlook
Manage Work 10 fully integrates with Microsoft Office, including Office 365. Manage emails and documents, even client collaboration—all from within familiar Outlook folders.
Incoming emails are analyzed and, based on analytics, the system suggests a filing location so you can file emails with just a single click. Previously filed emails are clearly marked, so you don't waste time filing what your colleagues have already filed.
Save files directly into iManage from the "save" command in Office and Office 365. Full integration with Gmail, Adobe Acrobat, document comparison and other tools means that no matter what tools you need to get your job done—it's just a click away with iManage Work 10.
Smart features make you more productive
iManage Work 10 leverages AI, machine learning, and big data analytics to enhance your productivity by eliminating traditional friction points in common tasks and by anticipating your needs based on historical data.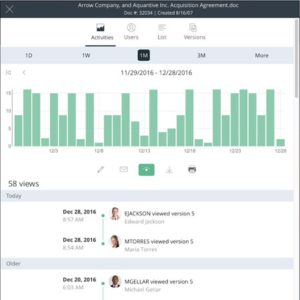 Interested in finding out more?
Contact our team to learn more.